Award Winner Built Dragon 1/35 Kingtiger Ardennes Diorama +Figure+PE/Resin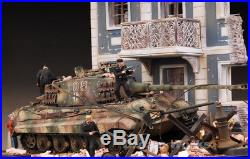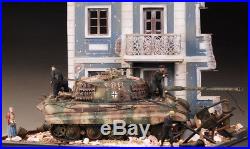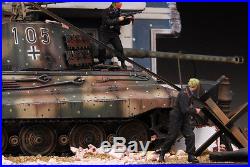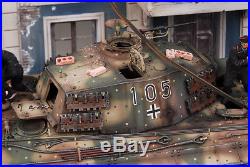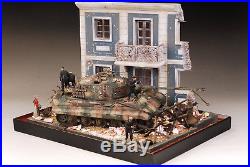 Kingtiger Siege of Bastogne Ardennes Offensive. Award winner built diorama with paint and real life heavy weathering.
A battle damaged Kingtiger on Bastogne street, Battle of the Bulge. Top building quality with outstanding details throughout whole model and very high standard accuracy on every individual part. Kingtiger with German ambush camo scheme. Accurate decals and unit markings.
Resin figure with diorama base. Add brass photo-etched parts and clear parts. Track links with road wheel detail. Add on vehicle tools and more add on details. Diorama platform: Top building quality with sublime detail over all.
1 old lady figures with great pose and cloth. 4 German Kingtiger crew with great pose, gear and more. Small town ruin finish with great color and details. Battle damaged European street hosue with smoked finish. Wall, windows, doors, balcony and more details.
Broken street light with details. Add bricks, stone, grevel and more on damaged road. Scratchbuilt many parts including building structure pieces. High class solid wood stand. Good for any WWII 35 scale vehicle. KingTiger Figure: - Top building quality with sublime detail over all - Diorama platform with great mud, gravel, grass, leaves details and more - Solid wood platform included for high classic display looking - Kingtiger Total length: 294mm, total width: 108mm.
Kingtiger Henschel design turret recreated in superb detail - The panels and rivets realistically reproduced - Brass Photo-etched engine deck grills, engine grills, clasps and more - Metal chain exhibited great finish - Upgraded frontal MG can rotate - Newly tooled hatches on hull front rendered w/fine details - Newly tooled fenders w/intricate detail - Newly designed turret w/realistic spare tracks molded details - Loader`s hatch with interior details - Cupola with fine interior details-head pad and clear parts - Periscope parts for driver`s and radio operator`s hatch - Separate commander`s hatch swivel arm - Main gun with muzzle brake detail - Rear turret escape hatch can be modeled open/closed - All other hatches can be assembled in the open or closed positions. Accurate details of exhaust extension - Authentic sprocket wheels w/18-teeth - Road wheels are accurately reproduced - Highly detailed tracks - Intricate on-vehicle tools reproduced - Add machine gun, metal chain, on vehicle and more accessories Total in package: 1x Kingtiger 4x German Figures 1x Old lady Figure 1x House 1x Diorama Base 1x Wood Platform Buffing and polishing to remove mold seam.
Base color with primer and putty for better surface detail. Airbrushed and painted with multicolor.
Add clear paint for good finishing on decal applying. Washing to enhance the surface detail increase the appearance of depth including panels, doors, hatches, rivets, bolt head and more. Dry brushing to emphasis and highlighting texture with edge for good wear, tear and fading. Multi-color filters for blend color effects.
Add non glossy paint for better finishing. Great detail paint job on rust and paint chips off with scratches, worn and bare metal realistic simulating, flow rust and rain streaks effects, grease with staining appearing, engine smoking and muffler burned representing.
Also smear and dirt with dust and real mud and more on real life weathering. Final protective layer for long term collection. After the successful invasion of Normandy and the subsequent eastward push through France, the Allied front lines extended from Nijmegen in the north down to neutral Switzerland in the south. The valuable port city of Antwerp had been captured during the push, and by the time winter arrived, the Allies even had control of German territory near the city of Aachen.
Adolf Hitler soon laid out a plan to attack the Allied lines in Belgium and Luxembourg; 25 divisions would launch a surprise attack through the Ardennes, with the aim of crossing the Meuse River (called Maas in German and Dutch) and recapturing Antwerp. Despite major misgivings from his senior commanders, including Gerd von Rundstedt and Walther Model, the plan was not modified and the jump-off date was eventually set as 16 December 1944. Meanwhile, the Allied commanders considered the Ardennes area to be unsuitable for a large-scale German attack, mainly because of terrain issues. In addition, intelligence reports suggested that the only German divisions stationed in the area were weary, and in the weeks leading up to the assault, no Allied commander saw reason to believe that an attack was imminent. Bastogne, a hub city that commanded several important roads in the area, was defended mainly by the 28th Infantry Division, which had seen continuous fighting from 22 July to 19 November, before being assigned to this relatively quiet area. The Allies believed only an infantry division was present opposite the 28th Infantry, and they believed any attack along this sector would be limited in scale. The seven roads in and out of Bastogne were critical to the movement of German armor, making Allied retention of the roads imperative. Hasso von Manteuffelcommanding the 5th Panzer Armygave Heinrich Freiherr von Lüttwitzs XLVII Panzer Corps the responsibility of capturing Bastogne, before crossing the Meuse near Namur. Lüttwitz planned to attack a 7 mi (11 km) front with three divisions: the 26th Volksgrenadier and the 2nd Panzer would lead the assault, with the Panzer-Lehr-Division behind them. Opposing this significant force were two battalions of the 110th Infantry Regiment (the third was held back as a division reserve), responsible for a 9 mi (14 km) front along the Our River which forms the border between Germany and neighbouring Luxembourg. The Allied forces were gathered into small groups at major Luxembourgish villages, with outposts along the river manned only during the daytime. The forces were too thin to maintain an even battle line, they focused their attention on the four roads that crossed the Our. Due to heavy rain preceding the German attack, only one of the roads was in good enough condition to be used as a crossing pointthe northernmost road, which crossed the Our at Dasburg on its way to the Luxembourgish town of Clervaux (in German: Klerf, in Luxembourgish: Klierf) and Bastogne.
The 2nd Panzer Division was assigned to cross the river along this road, while the 26th Volksgrenadier Division would construct a bridge near Gemünd for its crossing. Lüttwitz realized the importance of the road network of Bastognehe knew that the town had to be captured before his corps could venture too far westward.
Therefore, he ordered the Panzer-Lehr Division` to push forward to Bastogne as soon as his other troops had crossed the Clerf River in Northern Luxembourg. B Tiger, also commonly refered to as the Kingtiger, King Tiger, Royal Tiger or Tigerdevelopment of the massive King Tiger began in February 1943 to counter the increasing threat of Russian Tanks. A more powerful cannon was added, upgrading from the L56, 88mm of the Tiger I to the Type 43 L71, 88mm high velocity gun. The chassis front armor was 150mm thick with 80mm thick side armor.
The Henschel and Porsche companies came up with rival turret prototypes. After the trial production of 50 tanks with the Porsche turret, the Henschel design, with its extremely thick armor that measured 185mm on the front and 88mm on the side panels, was adopted for mass production. The Henschel turret itself was revised mid-way through production, from a stepped gun mantle to a smooth one.
Due to the havoc wreaked by the King Tiger I during the final German offensive on the Ardennes front in December of 1944, the Allied forces that moved in on Berlin would fear the King Tiger up until the very last day of the war. The item "Award Winner Built Dragon 1/35 Kingtiger Ardennes Diorama +Figure+PE/Resin" is in sale since Tuesday, October 31, 2017.
This item is in the category "Toys & Hobbies\Models & Kits\Military\Armor". The seller is "dreamworkshobby" and is located in Scarborough, Ontario. This item can be shipped to North, South, or Latin America, all countries in Europe, all countries in continental Asia, Australia.
Brand: Dragon Models
MPN: Does Not Apply
Scale: 1:35
Type: Armor