HPH Models HPH Sectioned Cut Pby 5A Catalina 1/32 Scale Resin Kit. Museum Displ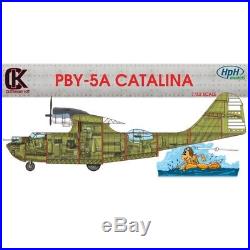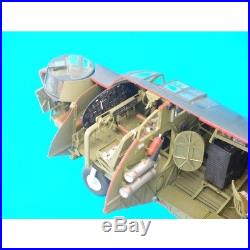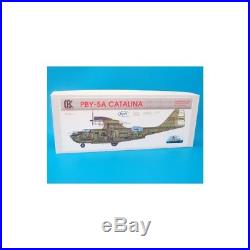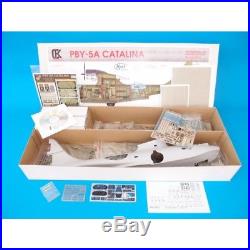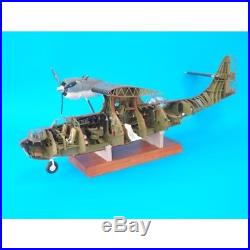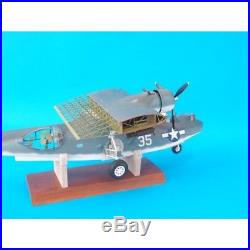 HPH Sectioned Cut Pby 5A Catalina 1/32 Scale Resin Kit. Its costs a bit more but its fast and secure. We appreciate your order and DHL will deliver it to you very quickly. Our Company was Established in 1937.
Cut PBY 5A Catalina in scale 1/32 Resin kit. This is the Cut - Opened up Fuselage version of the HPH Catalina. Does not include the Timber Stand. The Consolidated PBY Catalina, also known as the Canso in Canadian service, was an American flying boat, and later an amphibious aircraft of the 1930s and 1940s produced by Consolidated Aircraft.
It was one of the most widely used seaplanes of World War II. Catalinas served with every branch of the United States Armed Forces and in the air forces and navies of many other nations.
During World War II, PBYs were used in anti-submarine warfare, patrol bombing, convoy escorts, search and rescue missions (especially air-sea rescue), and cargo transport. The PBY was the most numerous aircraft of its kind and the last active military PBYs were not retired from service until the 1980s. In 2014, nearly 80 years after its first flight, the aircraft continues to fly as a waterbomber (or airtanker) in aerial firefighting operations all over the world. Crew: 10 pilot, co-pilot, bow turret gunner, flight engineer, radio operator, navigator, radar operator, two waist gunners, ventral gunner. Length: 63 ft 10 7/16 in (19.46 m).
Wingspan: 104 ft 0 in (31.70 m). Height: 21 ft 1 in (6.15 m). Wing area: 1,400 ft² (130 m²). Empty weight: 20,910 lb (9,485 kg). Takeoff weight: 35,420 lb (16,066 kg). Powerplant: 2 × Pratt & Whitney R-1830-92 Twin Wasp radial engines, 1,200 hp (895 kW each) each. Zero-lift drag coefficient: 0.0309. Drag area: 43.26 ft² (4.02 m²). Maximum speed: 196 mph (314 km/h). Cruise speed: 125 mph (201 km/h). Range: 2,520 mi (4,030 km). Service ceiling: 15,800 ft (4,000 m). Rate of climb: 1,000 ft/min (5.1 m/s). Wing loading: 25.3 lb/ft² (123.6 kg/m²). Power/mass: 0.034 hp/lb (0.056 kW/kg). 30 cal (7.62 mm) machine guns (two in nose turret, one in ventral hatch at tail). 50 cal (12.7 mm) machine guns (one in each waist blister). 4,000 lb (1,814 kg) of bombs or depth charges; torpedo racks were also available.
Primary parts and details made of resin. Fuselage and wings made of glassfibre. Building instructions on a CD + bonus - a historical movie. Clear resin canopies and transparencies.
Lathe-turned metal parts, metal reinforcements cast into the highly-stressed resin parts. Photo-etched parts, colour photo-etches by Eduard. Laser-cut textile safety belts by the HGW.
Its a cottage industry compared to the big brands. This is because Companies that make Resin Kits usually concentrate on subjects not made by the main model companies.
Resin Kits often contain extra detail like Metal Etch Parts and sometimes metal Undercarriage. So if you want something different go for a Resin Model. As building resin kits is seen to be a "Black Art" by some modellers, we offer the following advice guide: From CMR.
1 - Study the instructions and familiarise yourself with the parts before starting to work in a methodical manner, as resin kits do not have individual part numbers. 2 - Wash the parts thoroughly with detergent before any assembly or painting. This is to remove mould release agent left over from the manufacturing process. 3 - Carefully remove the parts from the pouring blocks using a razor saw - or scalpel for small items - and clean them up before starting construction.
Resin can be sanded easily and scribed like styrene to restore over-sanded panel lines, although scribing is best accomplished with a very sharp scriber and light strokes. Note: a certain amount of "Flash" is normal on resin kits due to the manufacturing processes involved, but this is easily removed. 4 - Test-fit everything to check for a decent fit before committing to glue. Some shrinkage is normal for resin parts due to the batch variances in resin used and temperature. 5 - Warped parts are not that unusual in resin kits and can easily be corrected by gently heating the part with a hairdryer or by running it under a lukewarm tap before easing it back into shape.
6 - Use 5-minute Epoxy for large joins. Cyanoacrylate adhesive is more suitable for smaller joins.
7 - Gaps can be filled using "Superglue" Gel such as Pro-Bond No. 3 Slow Set/Gap Filling cyanoacrylate or normal model filler (such as Milliput epoxy putty). When using normal model filler it is possible to use a cotton bud lightly coated in Acetone (nail varnish remover) or Cellulose thinners to clean up the join as, unlike polystyrene, resin does not melt when in contact with cellulose thinners. 8 - Use a resin primer such as Mr. Resin Primer Surfacer" (by Gunze Sangyo) as this will reveal any "Pinholes left by air bubbles as a result of the manufacturing process - it also provides a key for the final paint finish to adhere to.
9 - Pinholes can be filled using drops of primer, superglue or even correction fluid (such as Tippex). 11 - Resin kits can be painted with normal model paints i.
Enamel or Acrylic paints such as: Gunze Sangyo, Humbrol, Model Master, Revell, Tamiya, etc. 12 - Vac-form canopies are normally supplied in pairs. Glues (such as Krystal Klear) are best for affixing to the model - applied by small brush; any excess can be removed with a damp cloth before it has cured. However by first dipping the canopies in Johnson's "Future", not only does this improve the transparency of the canopy material, but it also prevents Cyanoacrylate (Superglue) from fogging them. Note: Cyanoacrylates should not be used directly on untreated acetate canopies, as a white'blooming' may occur due to the adhesive reacting on contact with the transparency material.
13 - Decals supplied with our models do not require the use of solvents during their application. 14 - Many of our newer models now include Photo-Etch Detailing Sets. PE parts are best glued with cyanoacrylate (superglue).
The item "HPH Models HPH Sectioned Cut Pby 5A Catalina 1/32 Scale Resin Kit. Museum Displ" is in sale since Saturday, October 14, 2017. This item is in the category "Toys & Hobbies\Models & Kits\Other Models & Kits". The seller is "jhmcloughlin" and is located in Newbridge. This item can be shipped to United States.
MPN: JPHPH3201L
Brand: HPH Models