Zorro 3d Printed Model Unassembled Unpainted 8k Resolution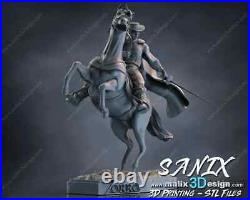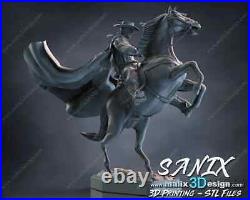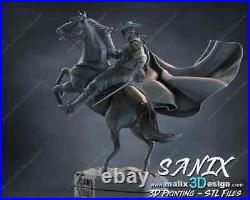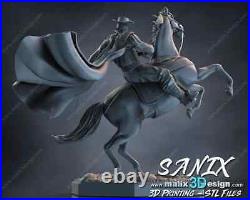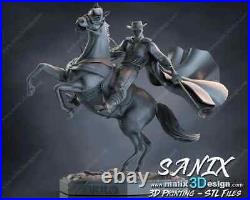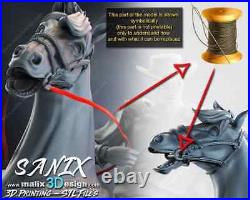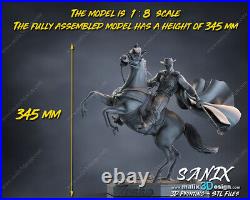 Info : This model will come UNASSEMBLED and UNPAINTED, depending on the level of detail on the model, some parts may be printed with a FDM printer with PLA material. For more detailed parts of the model, it will be printed with a 8k Resolution SLA printer which will include all fine details and is made with UV-curing resin.
The parts of the model will be hollowed to ensure finer details and avoid chance of print failure. On some parts of the model, you will notice some holes that have been covered, these holes were made intentionally to drain the excess resin from inside the model. Without doing this, the model will have a short shelf life and will be prone to cracks within a certain amount of months, so I do what I have to in order to avoid that. Rest assured your model will have a long shelf life and will be delivered and handled with properly. Superglue is recommended for jointing the parts together, because 3d printing is not a perfect process, sometimes gaps/seams will be found when putting two parts together, this is completely normal with the 3d printing process, we recommend having sandpaper and some filler in hand to smooth any parts or fill the seams.
Some parts may have visible areas where the support was placed and removed, I will sand some if it down myself but be prepared to sand and finish further if desired. Handled With Care: As many people know, some resin kits leave uncured resin inside the prints, and that can lead to a short shelf life, I take the extra time to make sure every piece is cleaned on the inside, outside, and cured fully so it is safe for you to handle. I go through every single piece and make sure to have it rinsed in 99% IPA making sure it gets in the parts well, smaller parts take a bit more time, but it is gonna be done, this process is very time consuming but it is essential if you want to have a model that's built to last. Standard height, for a male person, in miniatures it is calculated on average 1800 mm for 1: 1 scales. (so a man, he is 1m, 80 cm tall).
Based on this size, some scales are already attached to some measures. Scale 1:16 = 112.5 mm. Scale 1:10 = 180 mm. Scale 1: 8 = 225 mm. Scale 1: 6 = 300 mm. Depending on the project (character), the size can be changed. If you are looking for any other scales than the ones listed, just let me know!
Note: The sizes are the size of the character, it does not include any of the surrounding measurements. While rare errors can occur, rest assured that we are committed to promptly resolving any issues and ensuring your model is delivered to you as soon as possible. We will keep you updated on the progress every step of the way. Note: These products are fan art creations and not officially licensed by any movie/game franchise.
However, they embody the spirit and visual appeal of the beloved characters, making them a must-have for any enthusiast. This store has obtained a license from the creators to sell physical products of the 3D model.
The creators of these models are brought to you by sanix3dstudios and they have many more amazing designs out there for people to use!